Thanksgiving Potluck in New Yolk
Sheldon and Shelby are hosting a Thanksgiving Potluck in New Yolk. They've collected special recipes from friends and family, but they need your help to cook up enough dishes for the big Thanksgiving meal. They're offering rewards for every recipe you complete, like limited-edition Eggs, Shells, Travel Tickets, and even Uber Rare eggs!
How does it work?
During the Thanksgiving Potluck event, all challenges will feature special recipes. When you open your challenge, you'll randomly be assigned a recipe to create to help Sheldon and Shelby with their Thanksgiving Potluck.
Just like a normal challenge, you'll have 24 hours to complete your Recipe Challenge. In addition to the normal challenge prize, each recipe you complete will earn you a bonus reward like Shells, Travel Tickets, or an egg from a very special Thanksgiving-event-only, limited edition egg series! For November 2023, the special event series is Kitchen Utensils!
You can complete as many Recipe Challenges as you're able to during the event—whether you wait for your free daily challenge (or challenges if you're a Premium Member), or you buy loaded Challenge Keys for even more chances at event rewards.
How do I claim my recipe rewards?
When you complete a Recipe Challenge, you'll receive prize shells as usual, but you'll also earn a special bonus reward for completing the dish! This extra reward will be credited to you after you collect your shells for the challenge – shells, keys, vouchers, etc will be automatically credited to your account, and egg rewards will be sent to your vault under "Purchased".

To view the full list of possible recipes and see how many times you've completed each one, go to the Thanksgiving Recipes list by clicking the cook book icon in the top left of your game window.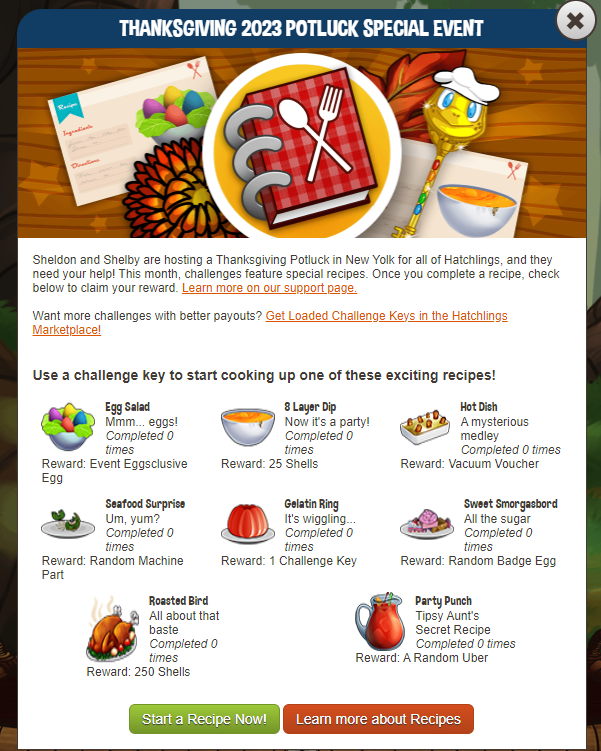 All challenges, daily and paid, are Thanksgiving Potluck Recipe Challenges during this special event, so roll up your sleeves and let's get cooking!
How long do I have to complete recipes for the Thanksgiving Potluck?
You'll have until midnight (0:00) GMT on December 1 to complete recipe challenges and claim your rewards. Any unfinished Recipe Challenges open at the end of the event will still be able to be completed as normal challenges. Any unclaimed recipe rewards will be lost, so don't forget to check the Thanksgiving Recipes list and claim your rewards before the event ends.


Watch our Facebook Page for event updates and announcements.