A Premium Membership is a paid addition to Hatchlings. Being a Premium Member gives you a lot of extra perks, including egg storage, access to the Premium Lounge, Premium-only series, and more!
In this article:
Premium Membership Perks
Here are the perks you get when you upgrade to playing Hatchlings with Premium. Click on a list item or keep scrolling to learn more.
Egg Storage
Storage is a Premium feature. It's a simple and easy way to save eggs for later use, including to complete challenges, gift, or to send to your Network. Storing eggs makes the game more fun—it lets you build up a reserve of Super Rares or duplicate finds of the recently released collections—really, you can choose to store any egg for any reason!
Premium comes with storage, and you can buy more for shells in the Hatchlings Marketplace.
Click here to learn about egg storage!
Discounts on Cash Purchases
When you have an active Premium membership, any cash purchase made in Hatchlings will get an automatic 5% discount applied at checkout.

Storage and Network Keyboard Shortcuts
Hatchlings has several handy keyboard shortcuts that can be used by anyone playing on a desktop computer! A couple of these are exclusively for Premium members. Click here to learn about keyboard shortcuts.
More FREE Daily Challenge Keys
All Hatchlings players get one free challenge key every day. But Premium players get THREE free keys per day! Read more about challenges here.
Access to Hatchlings Premium Lounge
As a Premium member, you'll receive exclusive access to the Premium-only Facebook group to interact with other Hatchlings Premium members, as well as the Hatchlings Team. Here you will find tips from other hunters, details on current events in Hatchlings, and other Hatchlings-related content.
How do I request access to the lounge?
If you are a Premium member, head to the Premium Lounge on Facebook and ask to join. It may take a day or two to be approved, but after you have been approved by the Hatchlings staff, you will be able to post and comment. Posts are moderated, meaning they won't be posted as soon as you submit them, but we do review submissions every day.
Premium-Only Collections
Some series are only available to open if you are a Premium Member. Premium series usually contain 10 eggs, and there's a new one every month.
Premium members can gift Premium eggs to any players, including those without Premium. Basic players will get credit for receiving the egg and be able to adopt the pets, but they will not be able to open or complete the series unless they upgrade to Premium.
My Premium Membership expired. What happens to my Premium series?
If your Premium Membership expires, you will no longer find premium eggs when you hunt. However, any premium series you completed before your membership expired will still count for your total.
Also, if you had a premium series open when your membership expired, it will remain open even though you won't be able to find the eggs on your own. To complete the series, you will either need to upgrade to Premium, or ask Premium players for gifts.
Premium Profile Flair
| | |
| --- | --- |
| Premium Members show their support for Hatchlings with a special symbol on their Hatchlings profile. You've probably seen some of those blue ribbons already! Players with Premium Memberships also have a blue P next to their names in the sidebar's Ranks tab. | |
Preview Locked Collections
Premium Members can view locked eggs on any player's Basket Profile; this means they can see right away which eggs or collections your or your friends might be missing! Become a pro-gifter with this nifty locked-eggs feature.
| | |
| --- | --- |
| With Premium: | Without Premium: |
Search Friends' Profiles
You know that handy search function that lets you search for specific eggs in your profile? When you go Premium, you can search friends' profiles too! But that's not all–you can also gift to your friend directly from their profile. To do this, open your friend's profile, find the egg you'd like to give, and send it to them the same way you'd send yourself an egg from storage.
Without Egg Filter
As a Premium member, you'll get exclusive access to the "Without Egg" filter, so you can gift those extra eggs in your storage to those who need them most.
Why do I need this feature? If you like giving gifts, but only want to give them to friends who need them, this will automatically find your friends that are currently hunting for that egg. Just remember to check the "Without Egg" box!

How to use this feature: Choose an egg to gift as you normally would (learn about gifting to friends here). In the recipient selection pop-up, check the box next to "Without Egg." This will display all your friends who don't have this egg yet, and let you know which of them currently has that collection unlocked.
Special Event Bonuses
As a Premium member, you'll get the chance to take advantage of special bonus perks during in-game events. Perks vary between events, but can include free items or boosts to help you out with the event, Premium-exclusive decorations, bonus trades, and more. Follow our Facebook page to get updates on special Premium event bonuses.
How do I upgrade to a Premium Membership?
You can get a Premium Membership in our Marketplace. Click the shopping cart in the right-hand icon tray, then select Premium. You can choose from monthly, quarterly, semiannual, and annual options.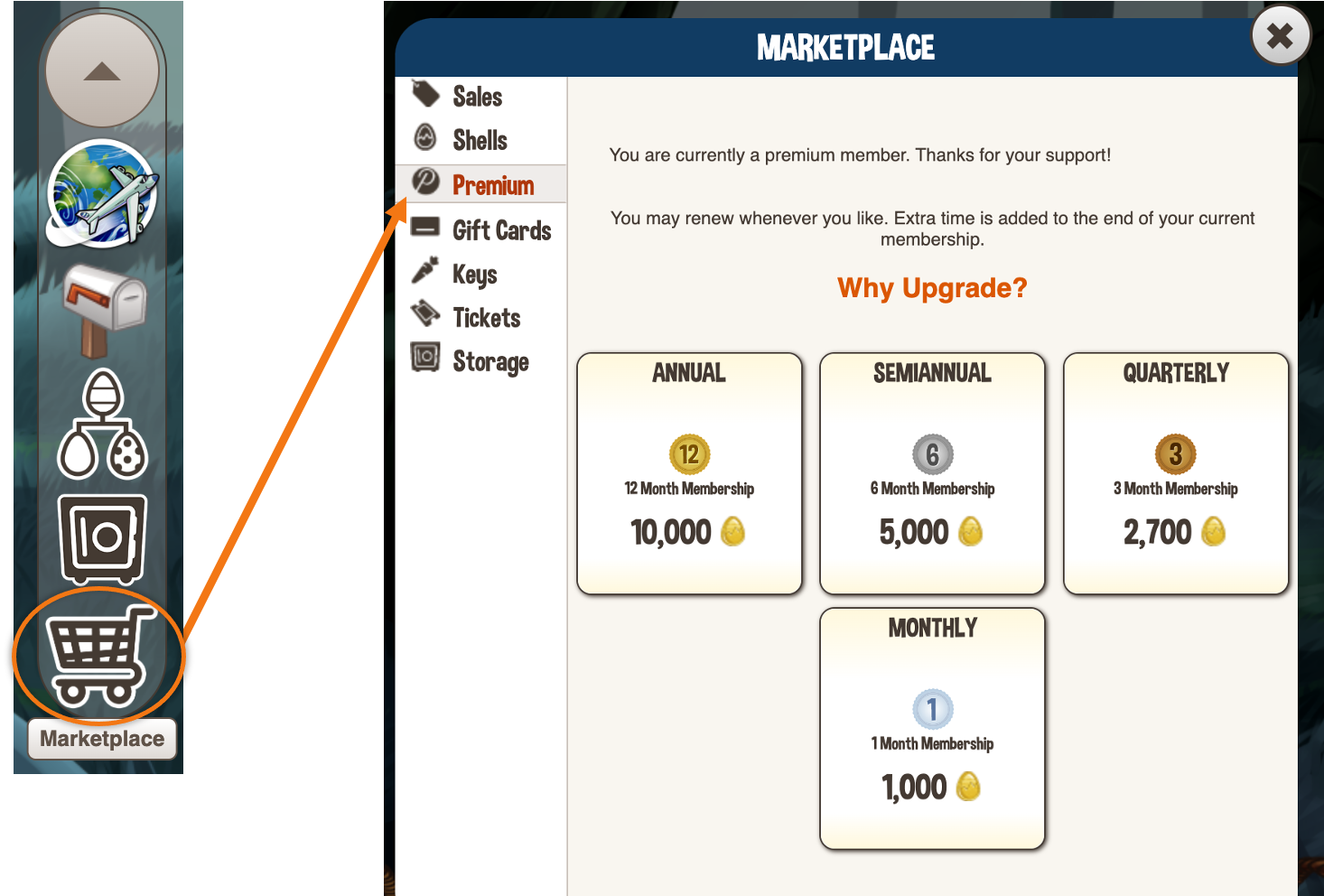 Tip: Save shells by purchasing multiple months of Premium at once. Three months saves you 300 shells, six months saves you 1000, and 12 months saves you 2000 shells!
You can have up to 13 months of Premium on your account.
Can I gift Premium to a friend?
Yes! It's easy to send Premium to a friend, either with a Premium gift card or from their profile.
For a Gift Card: Go to Marketplace, click on Gift Cards, scroll down for Premium gift card options, and select the option you want. After purchase, you can find the gift card code under My Gift Cards. Send the code to your friend privately, and they'll be able to redeem it. Learn more about purchasing and redeeming gift cards here.
You can also go to your friend's profile and click "Buy Them Premium" below their profile picture.
| | |
| --- | --- |
| Premium Gift Card from Marketplace: | "Buy them Premium" from profile: |
Is there a limit to how much Premium I can buy?
Yes, you can only have a Premium membership for up to 13 months in the future.
You can still purchase Premium gift cards any time to be redeemed at a future date.