Enter if You Dare
Brave hunters are invited to explore a spooky hunting location: the Haunted House! Grab your flashlight and get ready to hunt like you've never hunted before.
Traveling
To travel to the Haunted House, you will need a Travel Ticket. To learn more about travel, read our Travel article
Gameplay
When you enter the Haunted House, eggs will appear floating inside enchanted jack-o-lanterns. These eggs appear and vanish without a trace, so if you see one you want, catch it before it fades into the darkness.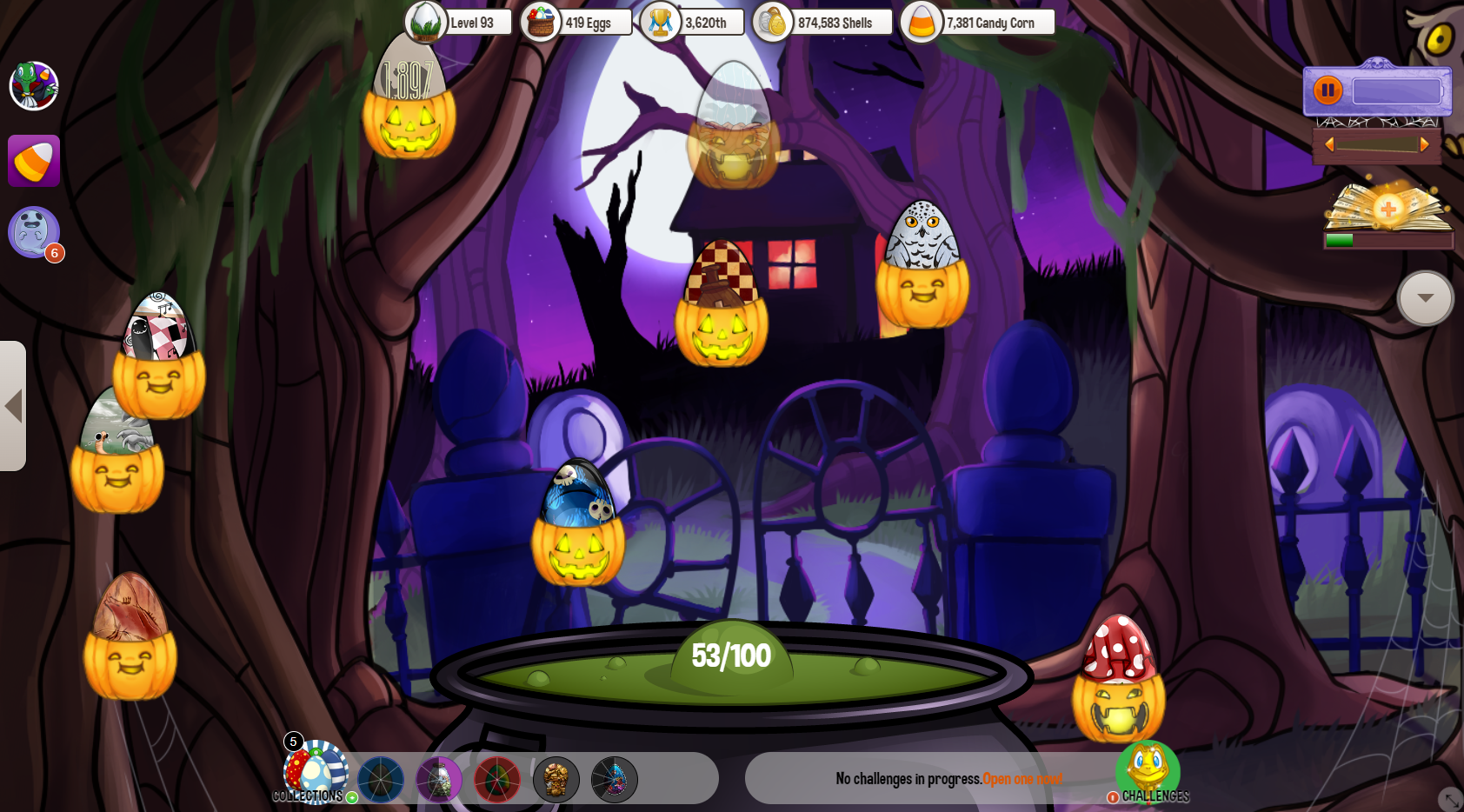 Don't rush! Click too quickly, and you might drain your click meter. Check the click meter at the top of your game to see how many clicks you have left.
If you use all your clicks, you'll have to wait until your meter starts to refill before collecting more eggs.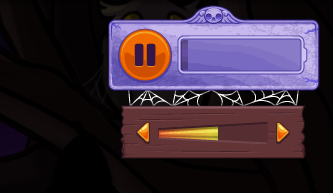 If you're feeling scared or want a more intense thrill, change things up with the speed meter! Increase or decrease the speed that eggs appear and disappear according to how you prefer to play.

Need a break? Press the pause button to freeze the eggs and your click meter.
The Cauldron
The bubbling brew in your cauldron will keep track of how many eggs you have collected. At any time, click your cauldron to bring up a hunting report where you can view, share and store your collected eggs. Close the hunting report to empty your cauldron and start hunting again.

Your cauldron can only hold 100 eggs, and once it's full, the potion will turn orange. You can continue to hunt, but your oldest finds will be spirited away by ghosts. If you know you collected an egg you don't want to lose, be sure to click the cauldron to bring up your finds!

Spell Tokens and Magic Meter
As you hunt, keep an eye out for special Spell Tokens to help fill up the Magic Meter. Spell Tokens can be found in hunting mode, or purchased by clicking the token icon on the Magic Meter. The stronger the spell you cast, the more it will fill up the Magic Meter.
Are you a Premium member? Then you're in luck! Premium members have more chances to find Spell Tokens, and get 1 FREE Spell Token per day, claimable where you purchase Spell Tokens.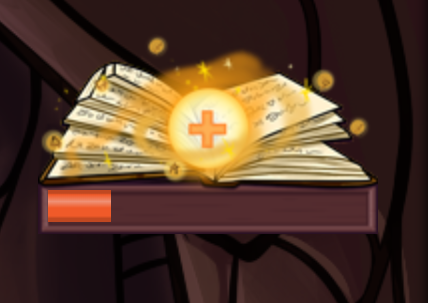 Once you fill up your Magic Meter, you will be swept into the Ghost Hunt for a special mini-game.
Ghost Hunt
There's only one thing that can be summoned by all these magic spells flying around: Ghosts!
A full Magic Meter will trigger a countdown to the Ghost Hunt. At the end of the countdown, all the lights will go out and a haunt of ghosts will appear! The Ghost Hunt will last until the timer runs out. Your only weapon against this haunting is your flashlight. Don't worry! Hunting ghosts is easy.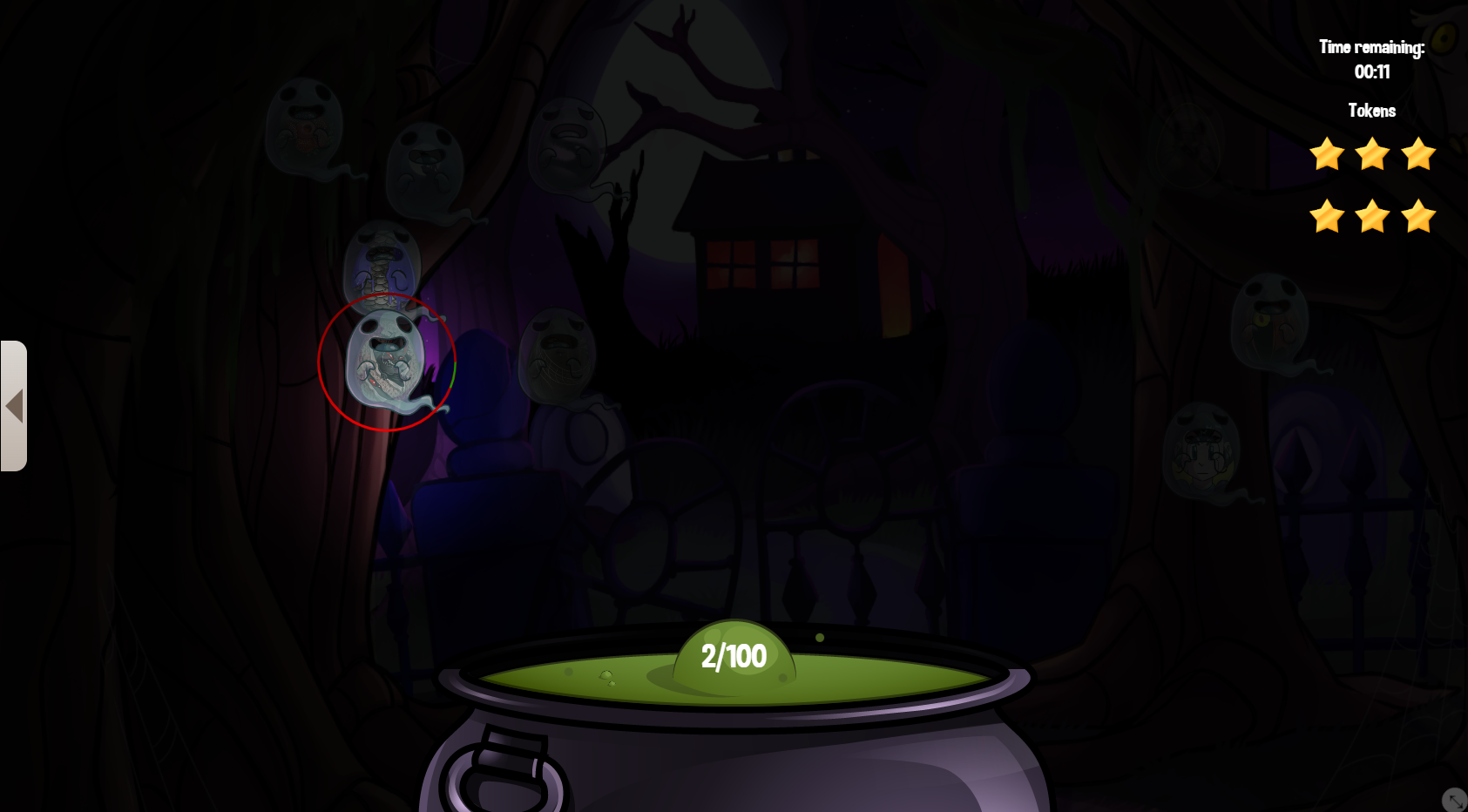 Each ghost will be carrying an egg. Aim your flashlight at the ghost to lock onto it, and a red circle will appear. Follow the ghost until the circle turns completely green to make it drop the egg into your cauldron. No need to click! Just shining your flashlight on the ghost is enough to defeat it. Note: Certain series can only be found in the Ghost Hunt!
Some ghosts will be carrying stars instead of eggs. You want those! For each star you collect during the Ghost Hunt, you'll have one chance at the Scary-Go-Round mini-game.
Scary-Go-Round
In this slot machine-style mini-game, you'll have a chance to line up 3 sections of an image to win the prize pictured. Play for a chance to win rare eggs, or even Ubers! Keep an eye out for this year's Scary-Go-Round-exclusive series!
| | |
| --- | --- |
| | You can open the Scary-Go-Round at any time by clicking the ghost iconic the left side of the play area. To play, you'll need to have Stars that you collected in the Ghost Haunt. Remember that Stars do NOT send you to the Scary-go-Round automatically anymore. You choose when to go by clicking the ghost located on the left hand side of the screen. |
As the Scary-Go-Round spins, press the "Stop" button to freeze each section. Match up all 3 sections to win a prize! The number of chances you'll have will depend on the number of stars you collected during the Ghost Hunt. You can view how many attempts you have left in the upper righthand corner of the Scary-Go-Round.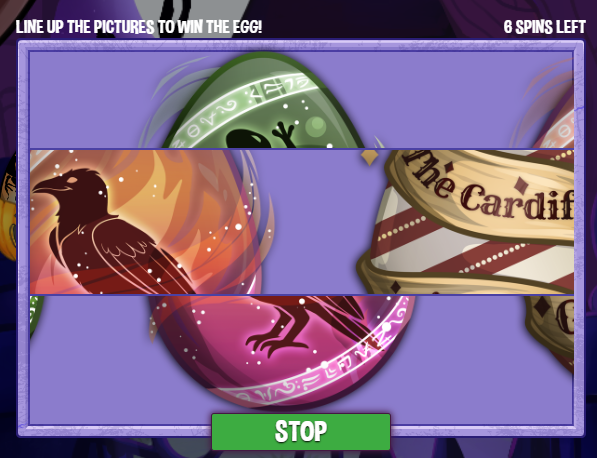 If you win a prize, click "Claim" to make the reward drop into your vault. Be sure to claim your prizes from your vault after the mini-game ends! Just barely missed that egg you wanted? Click Retry to spend 100 shells to try again with the same assortment of eggs.

Series
While you're visiting the Haunted House, you'll be able to hunt for Halloween series you can't find anywhere else, and new series will be released throughout the month! Use a key while you are at the Haunted House to unlock these spooky new series.
Since the Haunted House and New Yolk each have a different mix of series, your open series markers at the bottom of the game will only show you your open series for the location you are currently hunting in. However, even though you can only hunt for the series that are available in your current location, stored eggs (network and premium) will be available across both destinations.
Certain egg series are only available in the Ghost Hunt, and other series can only be won in the Scary-Go-Round.
Challenges
Looking for a Halloween treat? Open a challenge at the Haunted House to win Candy Corn!
Challenges can be opened while at the Haunted House or in Upstate New Yolk, but will only contain eggs from series available in the location where the challenge was started, and can only be completed in the location where the challenge was started.
Good Luck!
The Haunted House will only be available for a limited time. For updates and announcements, like our Facebook page.