What is a Network? Why join one?
A network is a group of Hatchlings players who collect and share eggs with one another.
Networks connect you with other Hatchlings players, so you can make friends and get help with the game. When you join a network, you'll be able to access a private chat room exclusively for members of the network. Each network is different, but most offer "Free For All" (FFA) eggs, and some even hold contests for their members.
How do I join a network?
You might be invited to join a network when you begin playing Hatchlings but if you haven't, don't worry! Most networks are very open to accepting new members.

Finding the right network for you is a lot like finding a best friend—each one is unique, and you'll have to decide which one is right for you. Don't worry about making the wrong choice; you can always switch to a new network later.

The network icon shows connected eggs. Click on it to join a network and review other network information.

This will open up the list of active networks for you to browse. Sort by top networks to see options sorted by most popular, or click Friends' Networks to see what networks your friends have already joined.

Once you find a network that looks good to you, click View Network to pull up their page, then click Request Membership. Once an admin of that network has approved your request, you'll be able to access that network's shared storage and participate in their network chat.
How does network storage work?
Each network has access to shared storage for eggs contributed by members. Depending on how network admins have set up sharing, members and/or admins can contribute to or take from network storage.
Network storage is considered "short term," like your vault, and like your vault, eggs stored there expire after seven days.
To view your network's storage, open your network page by clicking the Network button, then scroll past rankings to the bottom.
By the way: if you see people mention FFA, that refers to "Free For All" (shared) storage.
Taking eggs from shared storage:

Assuming your network admins have enabled members to claim eggs, you can search network storage to claim eggs you need. The box for "Show only my challenge eggs" is handy! Check it to show any eggs in shared storage that are required for your currently-active challenges.
Some networks restrict how many eggs you can take and/or how often you can claim them. The example above shows a network that limits members to 25 eggs per day, but that number and time are set by network admins.
Claiming an egg from network storage will send it to your vault. To do so, click the egg in question, and then click In Storage. Select the quantity of that egg you want to take, and then click Send Now. You'll then be able to claim that egg from your vault.

Contributing eggs to shared storage:
There are multiple ways to send eggs to your network.
In

normal hunting mode

, click on the egg in your basket, then click Send to Network on the expanded egg card.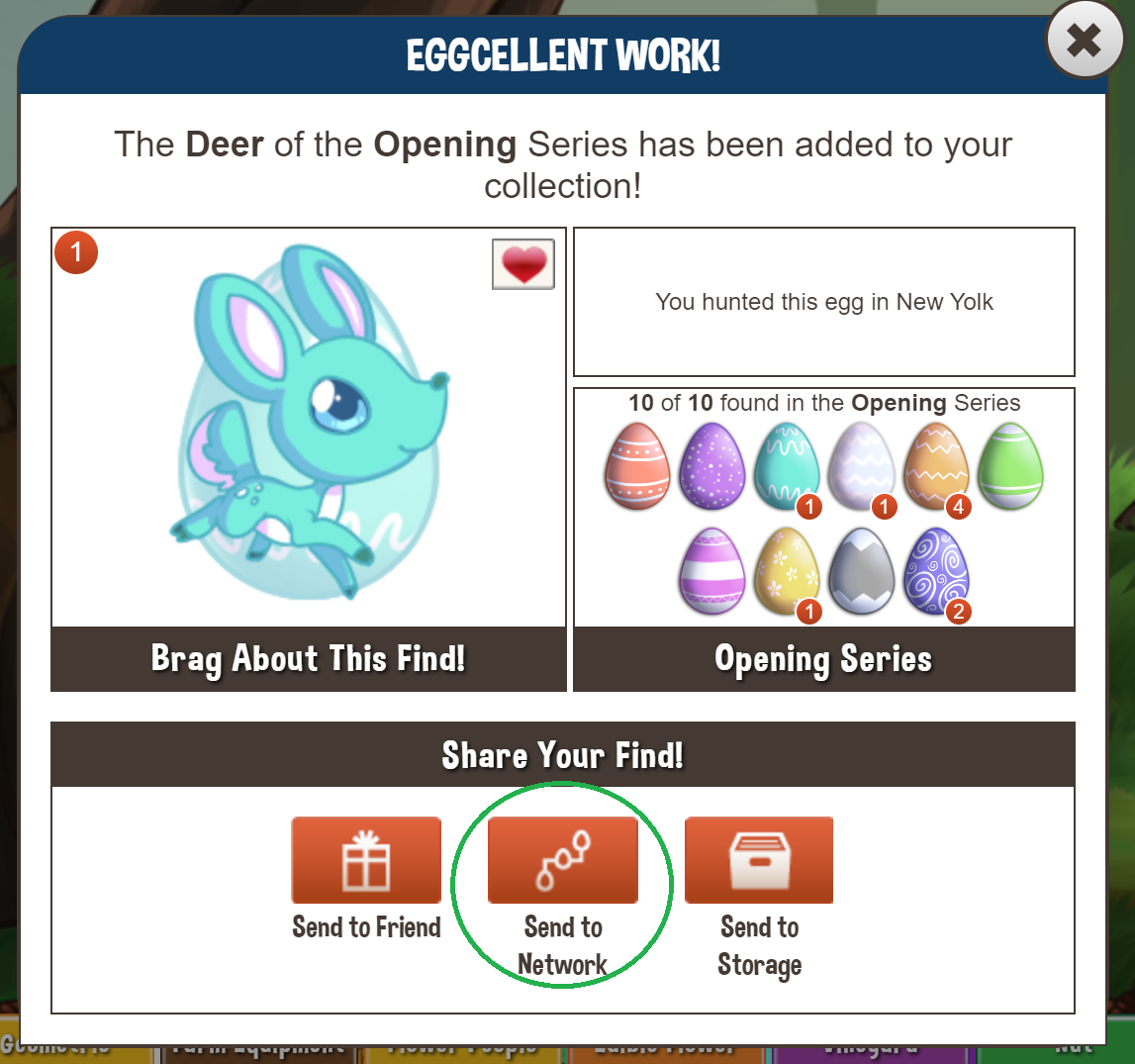 Also in normal hunting mode,

Premium members

can use the N

keyboard shortcut

to pull up the Network Storage Carton. Once the carton is on screen, simply click once on each egg in the basket to send it to your network's storage.

In

Power Mode

, or when hunting in a travel location, click Share Your Find in the basket report under the egg you'd like to send, then click Send to Network on the expanded egg card.
You cannot send all 100 eggs to your network at once.
How do I create my own network?
To create a new network, click the Network button in the right hand sidebar to bring up the Choose a Network dialog. Click the red Create Your Own button at the bottom of that window.
Next, fill out all the information in the network creation dialog: Name and describe your network, and click the Select File button to choose an image to represent your network (you'll be asked to crop the image and confirm once it's uploaded).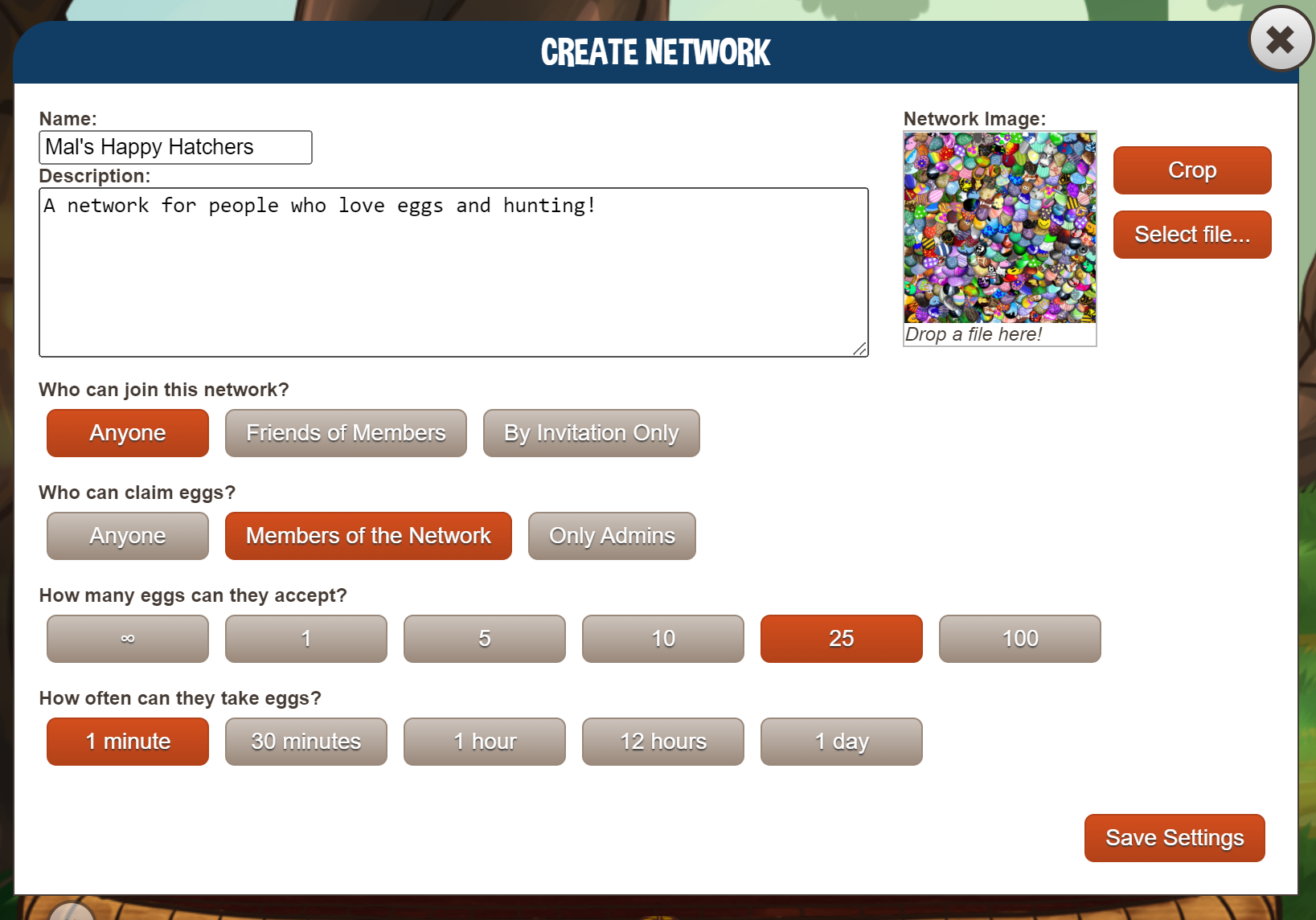 Finally, select who you'd like to be able to find and join your network, and who can take eggs from your network's storage, along with how many eggs they can claim and how often. Click Save Settings to confirm.
That's it! All you have to do now is let fellow players know about your new network so they can join.