You can go suck eggs! No, really. The DustBunny Automatic Egg Vacuum, brought to you by Hefley Motors, is a boost that lets you vacuum up eggs with ease. With the DustBunny, collecting eggs is as easy as moving your cursor across the screen.
How do I use the DustBunny?
To activate, click on the DustBunny icon on the right hand side of your screen, underneath the Power Mode icon, then select the amount of vacuum time you'd like to purchase.

The purchase screen will also show if you have any Vacuum Vouchers available. If so, you can click that option to activate the DustBunny for the specified time without spending shells.


DustBunny OFF

Once you've activated the vacuum, the DustBunny icon will open its eyes and brighten up, and a timer will appear, displaying how much longer the vacuum will be active. Once it's on, you can just move your cursor over the egg you'd like to collect, and the DustBunny will suck it up and deposit it directly into your basket! DustBunny works in New Yolk normal and power modes, and in Egglantis


DustBunny ON
What if I purchase vacuum time twice?
No worries! Vacuum time stacks.

For example, if you buy 60 minutes twice,
you'll get two hours to use the DustBunny.
I'm playing on a touchscreen device and there is no cursor. Is it working?
The DustBunny works on touchscreen devices, too. Your finger acts as the cursor. Just tap a blank part of the screen, then drag your finger across the screen to pick up eggs.
What's the Vac-Stack 3000 machine?
It's a machine to bundle vacuum vouchers and give you bonus minutes.
Read more about machines here.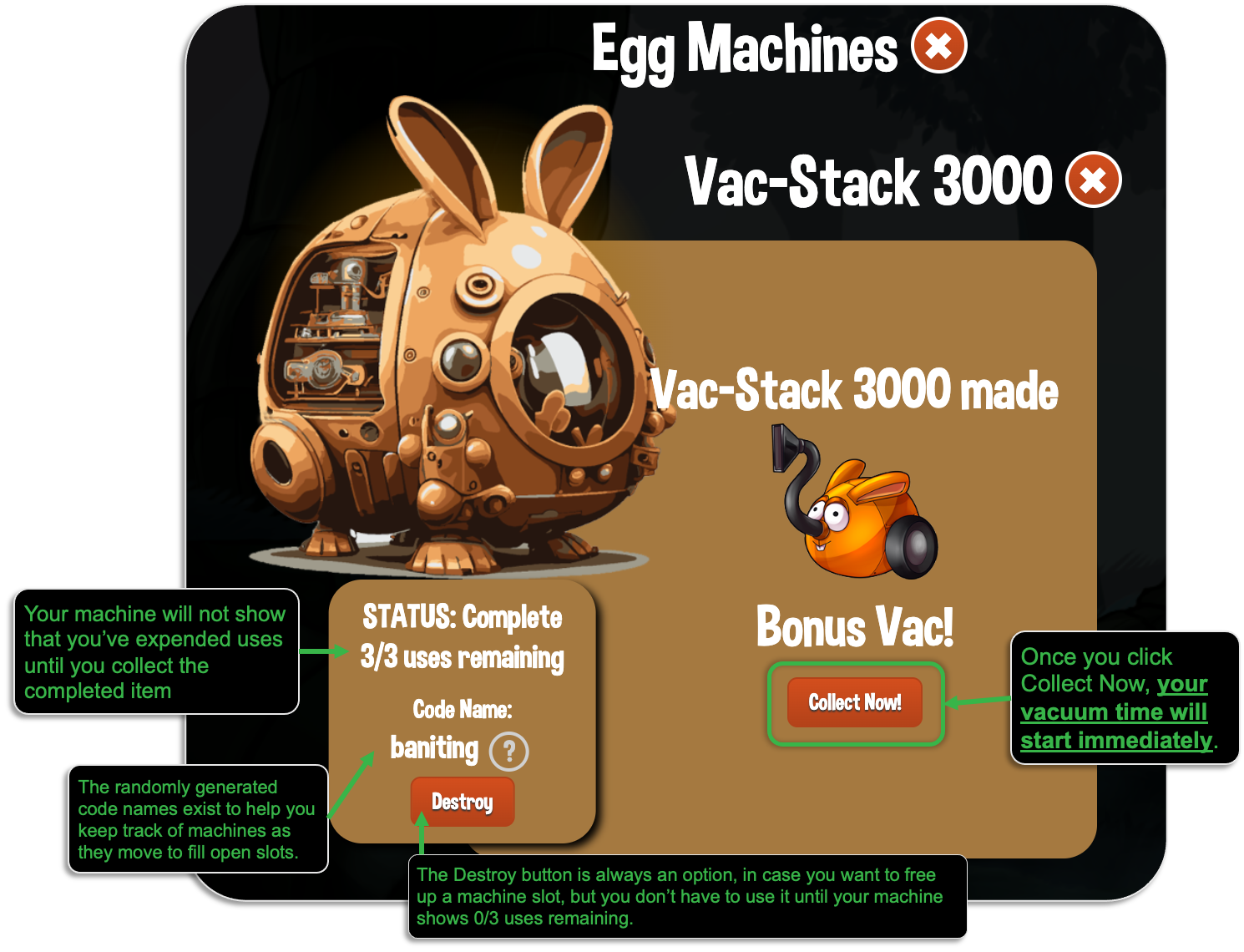 How do I get Vacuum Vouchers to use later?
Vacuum Vouchers are typically won as prizes in special events, or received in presents during the holidays.
Enjoy hunting with the DustBunny, and remember: Nothing Sucks Quite Like a Hefley!